Frequently Asked Questions
What is InterExam™?
InterExam™ is a test delivery system provided through the National Measurement and Testing (NMT) web site that allows you to administer secure multiple-choice and other objective response examinations via the Internet safely and reliably, in a timed or un-timed format. InterExam™ is especially designed for licensure/certification examinations and employment tests, and is available for educationally-based tests as well. It is also adaptable to questionnaires, survey instruments, and other objective measures.
How are the examinations administered?
InterExam™ allows for examinations to be administered in two ways: through one of our proctored sites available through Regus, Inc., and using your own locations and proctors.
Candidates are given an admission indicating the test to be taken, the proctor contact information, and the dates during which the exam can be taken. The examinee contacts the proctor for an appointment. On the day of the examination, the candidate brings the admission ticket along with a photo ID. After verifying the candidate's information, the proctor enters in a session code indicated on the admission ticket, along with necessary pass codes. The exam is self-timed and self-directed. Upon the completion of the examination, the results are immediately displayed on the screen, and an unofficial score report is e-mailed to the candidate. Several days later, an official score report is sent to the candidate via the regular mail.
Who arranges the exam registrations?
Using the InterExam™ Administrator Screen, exam registrations are made directly by your staff under secure circumstances. Admission tickets include the candidate's name, address, exam, test location/proctor, and date range in which the exam can take the test.
Alternatively, exam registrations can be made through National Measurement and Testing by calling 866-724-9600.
Where is InterExam™ administered?
National Measurement and Testing makes InterExam™ available through locations provided by Regus, Inc. Several hundred locations are available throughout the United States and internationally. Please contact National Measurement and Testing for further information.
Is there a 'demo' exam we can use to see how InterExam™ operates?
Yes. Contact National Measurement and Testing for directions on how to access it.
Can we use our own test sites and proctors to deliver InterExam™?
Yes. The InterExam™ Administrator Screen allows for the entry of your own test proctors. Such proctors can be used instead of, or in addition to, the NMT test sites. A proctor training guide can be obtained from National Measurement and Testing.
Can InterExam™ display exhibits attached to items?
Yes. InterExam™ allows for both text and image (e.g., .JPG, .GIF) files displayed as exhibits attached to each item. Examples of both types of exhibits appear in the InterExam™ Demo exam described above.
Is there an end-of-exam survey?
Yes. The survey is un-timed, and can accommodate fixed-response and open-ended questions. Survey questions can be added and customized to your own needs.
Does InterExam™ allow for examinee comments to specific items?
Yes. Every item you test has a feature to allow for the entry of examinee comments to items. The data are stored within the system along with test results, and are downloaded periodically and sent to the client.
We would like to know how much time our candidates spend on individual items. Will InterExam™ tell us this?
Yes. The number of seconds each item remains on the screen is recorded within the test database, and is periodically downloaded and sent to the client.
Does InterExam™ allow for unproctored examinations?
If security for your testing program is not an issue, InterExam™ can be adapted to allow for unproctored tests as well.
Does InterExam™ have a feature for billing candidates?
At this time, InterExam™ does not have a billing feature, and National Measurement and Testing does not collect payments from examinees. Instead, candidate billing must be handled by the client or their own designated billing services.
Where do we go if we need help?
InterExam™ is easy to use and rarely requires technical expertise. How, in the event of any difficulties, technical support can be obtained by calling National Measurement and Testing (24/7) toll-free at 866-724-9600.
How can we monitor our usage of InterExam™? How are the scores reported back to us?
Examinations can be monitored at all times by clients using the InterExam™ Administrator Screen. The screen lists the names and locations of candidates currently taking examinations, exams that are pending, and exams recently completed (with the results). An archive of earlier examinations is available through the Administrator Screen as well. In addition, complete candidate records are downloaded on a periodic basis and are sent to clients via an Excel spreadsheet.
What types of security measures does InterExam™ employ?
Tests administered via InterExam™ can only be administered through a special session code assigned to the candidate admission ticket, along with secure passwords. In order to prevent unauthorized access to the exams, the session code is customized to the examinee, the examination to be taken, the location, and the designated time period in which the test can be taken. Examinations can only be accessed in the presence of the designated proctor having the necessary pass codes, and are good only for one test administration. Once an examinee completes an examination, the session code cannot be used again.
In addition to this, InterExam™ employs what is commonly known as a "CAPTCHA" (which stands for "Completely Automated Public Turing test to tell Computers and Humans Apart") at several critical locations, thereby providing an additional safeguard against spammers and other unauthorized efforts to gain entry.
Can InterExam™ deliver "randomized" tests? How about adaptive tests?
In addition to the straight delivery of test forms, InterExam™ can be adapted to deliver tests via a random testlet format, whereby fixed groups of items (or "testlets") are randomly to candidates, thereby increasing exponentially the variety of test forms delivered to candidates. InterExam™ has the provision for storing and utilizing item calibration information, including three parameter model data and Rasch item difficulty values, thereby allowing for other test delivery formats such as adaptive testing. Please contact National Measurement and Testing for further information.
How do we prepare items for uploading into InterExam™?
Test questions to be loaded into InterExam™ can be sent as Microsoft Word, as Word documents (.DOC), or as text files (.TXT). The format is simple, and allows for the entry of all relevant item information including item bank numbers, keys, content areas, and item calibrations.
What are the fees for InterExam™?
Fees for InterExam™ will depend upon the number of tests to be uploaded into the system, the numbers of examinees, and the number of test locations desired. Please contact National Measurement and Testing, Inc. for further information.
Back to InterExam™ page.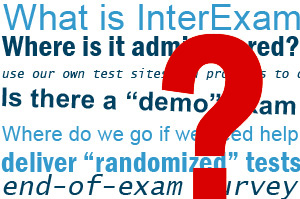 ---